Breakfast and brunch. Lunch and Munch - one day at Kulturhuset.
In order to feed a full house from morning until late evening, we had to go beyond a single culinary concept day in, day out. We have therefore decided to focus on each meal separately.
Breakfast, Brunch, Lunch and Munch. Within these categories we make food we appreciate during the different times of the day. Simple food comprised of honest ingredients. Most of the food we make ourselves in house, but occasionally we also cooperate with dedicated, local producers and buy from them.
Breakfast every morning &
Brunch - Saturday to Sunday 11am – 5pm
Start your morning off right with a proper breakfast! From early on we serve freshly made sandwiches and baguettes with bread from Åpent Bakeri, enjoy it with your morning coffee and the newspaper, or just on the go! We also serve our house made chia puddings with jam and granola or dried fruits, fresh Røros yoghurts and overnights oats!
Saturdays and Sundays you can also come and enjoy our brunch! Delicious eggs and bacon, toasted sourdough bread and avocado, perfect for a lazy sunday morning. And not to worry – we have an awesome vegan brunch as well with amongst all the other yummy things, our house made cashew butter!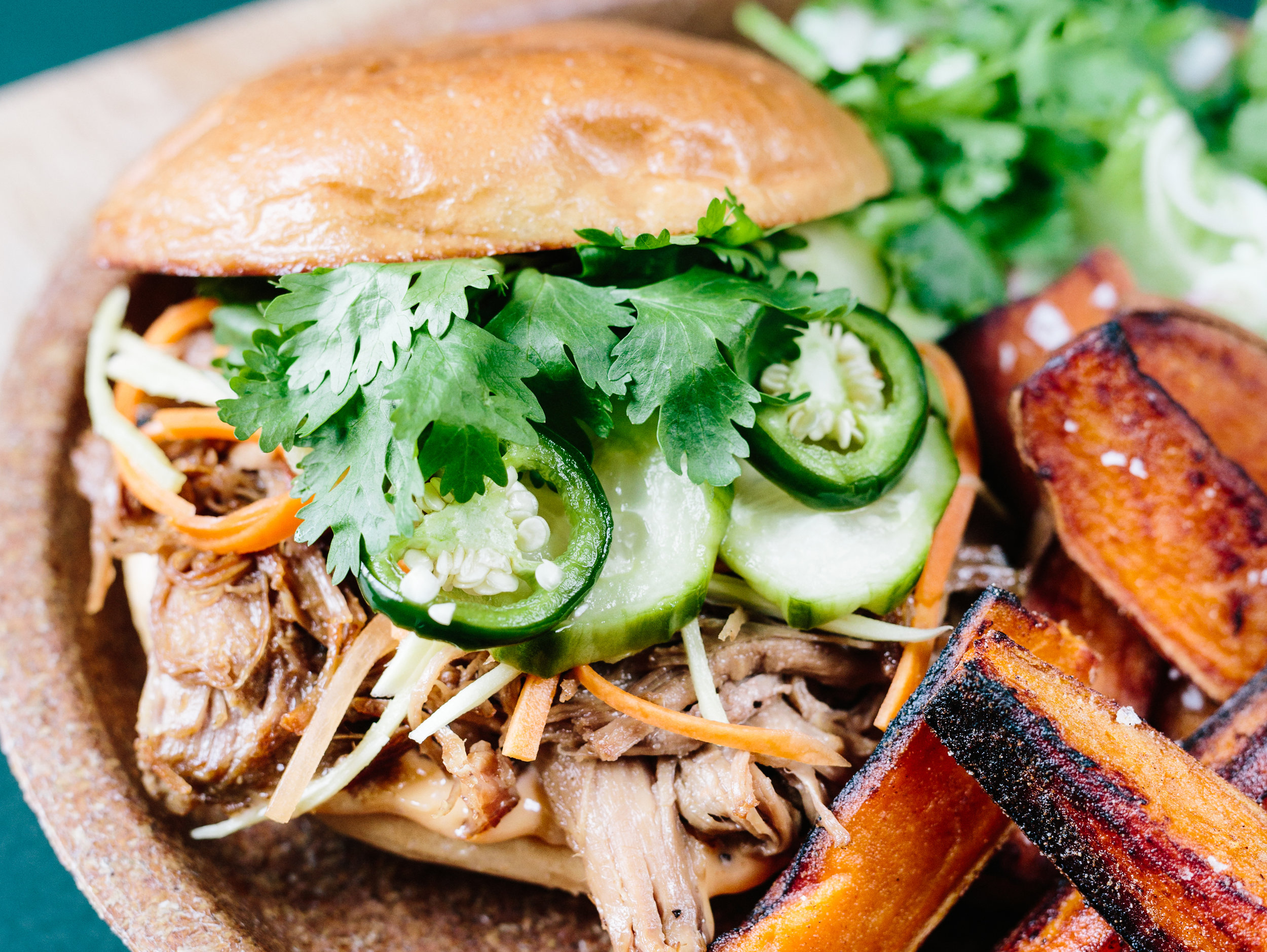 Lunch - Mon-Wed 11:00 – 20:00
Thu-Fri 11:00 – 17:00
For lunch during these last few cold months we have put together three bowls we really love. Poké Bowl– inspired by the japanese-hawaiian ricebowl with raw fish. In our bowl, other than rice, you can find (gluten free) soy marinated salmon, fresh, crispy greens, pickled cauliflower, nori, panfried sesame seeds and chili mayo.
The second bowl we´ve named Rainbow Bowl, cause it´s just packed full of these awesome colours, and is one of our vegan options. We use quinoa and barley as a base and top it with a rainbow of greens cooked in different ways. Last, but not least, you can frind the Fried Chicken Bowl. Inspired by the Japanese dish Kaarage Don, we use our house marinated fried chicken, top with mayo and takoyaki sauce, crispy, shredded cabbage, nori and pickled mushrooms.
In addition we have our Avocado Toast on sourdough bread from Åpent Bakeri, and as long as its chilly outside a soup of the day.
If you´re feeling extra hungry, or just in the mood for it, you can top each of our dishes with extra avocado, poached egg, bacon or more fried chicken!
Munch – Thursday -Saturday 5pm – 11pm
Perfect for that Friday night snack when you come straight from work – every evening in the Matbar you can find our toast! Packed full of cheese and tasty fillings. And of course we have the fried chicken, enjoy it by it self with dippings or in sandwich form.
Events and bigger groups
For bigger events there is an own menu, and unique guidelines when it comes to ordering and service. Feel free to visit our arrangement page for more info!
You'll find the arrangements menu here: